Workflow automation in an organization is replacing daily manual tasks with software to optimize these tasks. For workflow automation, the software is programmed with predefined business rules and logic to address inefficiencies. It enables easier collaboration of the regular tasks from start to finish.

Today, workflow automation incorporates artificial intelligence and other adoption-friendly user interfaces so that humans no longer have to handle repetitive tasks.
Reasons for Using Workflow Automation
All types of organizations, no matter the size, use workflow automation to perform basic repetitive tasks that don't necessarily require intelligent decision-making. A recent survey conducted by Deloitte Global Human Capital has determined that workflow automation is growing at 20% per year, with a likelihood of the market reaching a market value of $5 billion by 2024.
Various departments in organizations, including marketing, finance, and human resources, incorporate workflow automation for the following reasons:
To increase efficiency by enabling employees to spend time on other activities
To boost productivity
To reduce human error and achieve accuracy
To speed up processes
Steps in Workflow Automation
Workflow automation typically involves seven steps: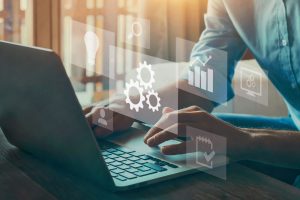 Identification of the process
Mapping out the process to design the workflow
Defining the business goals
Researching, choosing, and implementing the most appropriate workflow automation software
Training employees on the software
Determining key performance indicator metrics
Gathering feedback to drive continuous improvement
Benefits of Workflow Automation
Workflow automation is beneficial to organizations since it:
Reduces operational costs and streamlines management of tasks
Reduces time through automation of processes
Optimizes both employee and customer experience leading to satisfaction
Enables real-time insights, analysis, and accountability of responsibilities
Ensures adherence to compliance with existing rules and regulations
Applications of Workflow Automation
Workflow automation software is frequently used in these sectors:
Marketing — In Marketing Operations Processes Software (MOPS)
Sales — Customer Relationship Management (CRM) software
IT & Cybersecurity — To manage cloud-based services and automate speedy incident reports
Healthcare — In Healthcare Information Systems (HIS) that enable electronic health records
Finance — For accuracy and timely payments
Manufacturing — To reduce redundancies and errors and for compliance
Now's the Time… Automate Your Workflows
Workflow automation emphasizes increasing communication and easing of processes. More of these types of software are incorporating robotic process automation (RPA) with AI and machine learning for improved analysis and insights.
About ACT
Applied Computer Technologies (ACT) is a full-service IT provider, specializing in Reinsurance and Finance. Services include Cloud Services, IT Services and Support, Microsoft 365 and Azure Services, Business Continuity, Telephony and Virtual CIO Services. ACT has locations in Bermuda, Cayman Islands and Canada, with customers worldwide.
For the latest industry trends and technology insights visit ACT's main Blog page.