It is a common misconception that Voice over IP technology (VoIP) is only for large enterprise organizations. The truth is VoIP is just as beneficial for small to medium-sized companies.
Landlines are on their way to becoming obsolete. IP telephony offers benefits that landlines will never match. VoIP is flexible, reliable, and more cost-effective plus it's ready to tackle the needs of modern communication. No matter what industry or size, your business relies on connecting with customers to make sales and grow. VoIP allows for seamless communication.

Here are five ways that your business can benefit from VoIP technology.
1. Excellent Quality
Your phone needs to be reliable and high-quality. Nothing is worse than losing customers to dropped calls, interruptions, and jitters. With a solid broadband connection, VoIP provides you with high-quality, reliable, and consistent service.
2. VoIP is Cost Effective
Traditional phone service costs include hardware, copper wiring charges, and recurring fees. VoIP eliminates the investment on purchasing traditional phone lines and professional installation support and cuts down the expenses on long-distance and international business calls.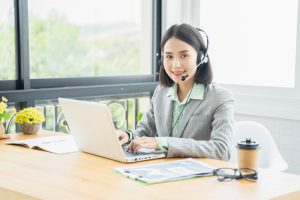 3. VoIP Systems and Services are Flexible
VoIP is the ideal solution for remote workers or team members that work from the road. A VoIP system allows you to conduct business from anywhere, anytime, if you have a computer and a stable internet connection. VoIP services are scalable and can grow with you. You can scale up services during busy seasons and back down when business slows. With softphone apps installed on your computer, tablet, or smartphone, your team is always connected!
4. Feature Rich Solutions
VoIP goes beyond simply making and receiving calls. It offers advanced features like call forwarding, transfers and routing, call recording, virtual numbers, SMS, and even email! Your team can communicate among themselves, with clients, or with the office on different platforms.
5. Boost Productivity
VoIP can dramatically increase your team's productivity by allowing them to make calls with the click of a button. A modern VoIP system can integrate with any CRM system. That means you'll always have access to the data you need. With a VoIP system, you'll gain an edge over the competition.
VoIP is a smart solution for businesses of any size in any industry. If you're ready to learn more about a cost-effective, affordable, cloud-based solution that can help you grow your business, give your ACT representative a call today!
About ACT
Applied Computer Technologies (ACT) is a full-service IT provider, specializing in Reinsurance and Finance. Services include Cloud Services, IT Services and Support, Microsoft 365 and Azure Services, Business Continuity, Telephony and Virtual CIO Services. ACT has locations in Bermuda, Cayman Islands and Canada, with customers worldwide.
For the latest industry trends and technology insights visit ACT's main Blog page.