Technology is constantly evolving, becoming more complex and advanced with every passing day. Keeping up can be a challenge, especially for small and medium-sized businesses (SMBs) with limited resources. In this blog post, we're going to discuss the benefits of outsourcing IT services to a Managed IT provider and why it's a smart move for businesses looking to stay ahead of the game.

1. Cost Savings
When you outsource your IT to a Managed IT Services provider, you avoid the need to hire an in-house IT team. This means you can save on the costs of payroll, benefits, and training. Additionally, a Managed IT provider can help you avoid costly downtime by proactively monitoring your network and addressing issues before they cause problems. This can be a huge cost-saving benefit for your business.
2. Access to High-level Expertise
Managed IT providers have a team of skilled and certified IT professionals who are experts in their field. This means that you can get access to high-level expertise without the need to train or hire IT staff. A Managed IT provider can give you the expertise you need to build a robust and secure IT infrastructure that can help your business grow.
3. Focus on Core Business Operations
Outsourcing your IT can help you focus on your core business operations. By letting a professional handle your IT services, you free up your time and resources to focus on what you do best: running your business. You can also rest assured that your IT infrastructure is being taken care of by a team of experts.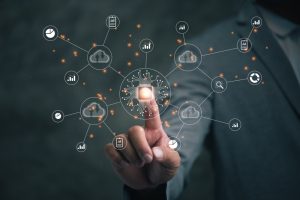 4. Improved Security
A Managed IT provider can help you improve your security posture by providing proactive security monitoring and threat detection. They can also help you build a robust disaster recovery plan that can help you recover quickly in case of a disaster.
5. Scalability
As your business grows, your IT needs will grow too. A Managed IT provider can help you scale your IT infrastructure to meet your growing business needs. They can provide you with the technology and resources you need to keep up with growing business demands.
Outsourcing your IT services to a Managed IT Services provider can be a smart move for your business. With cost savings, high-level expertise, improved security, scalability, and the ability to focus on core business operations, a Managed IT provider can give you the technology and resources you need to help your business grow and succeed.
About ACT
Applied Computer Technologies (ACT) is a full-service IT provider, specializing in Reinsurance and Finance. Services include Cloud Services, IT Services and Support, Microsoft 365 and Azure Services, Business Continuity, Telephony and Virtual CIO Services. ACT has locations in Bermuda, Cayman Islands and Canada, with customers worldwide. 
For the latest industry trends and technology insights visit ACT's main Blog page.